Workspaces 008 - Austin Valleskey
Welcome to Workspaces! We bring you inside the workspaces of creative individuals. Workspaces hopes to inspire you by showing you the toolkit that many creatives use to do their daily work. ☕️
---
Austin Valleskey is the co-founder of Bonfire, a new social app to chat about your interests. Where many other apps highlight follower and like counts, Bonfire does not. In fact, Bonfire doesn't even show follower or like counts inside the app. Instead, you share with others inside the same "Camps" or topics.
Prior to co-founding Bonfire, Austin worked on Cash App and Gifs.com. He also created Impossible Rush, an iPhone game with 1,000,000+ downloads.
Inside Austin's Workspace
This is Austin's temporary quarantine setup while he spends time back home with family. His typical "office" is actually various coffee shops around New York City.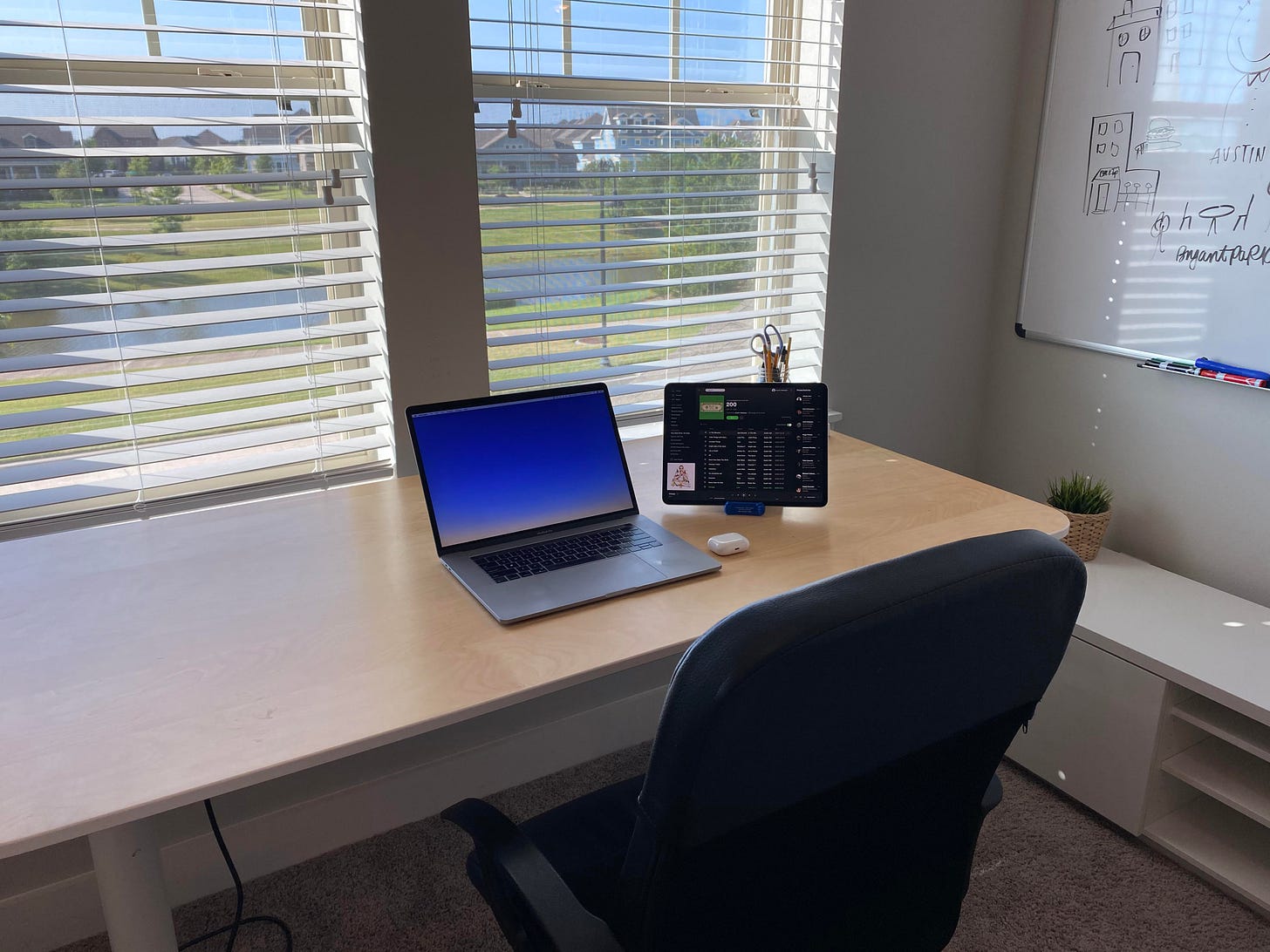 2017 15" MacBook Pro w/ a 2.9 GHz i7

2020 12.9" iPad Pro (used as an external monitor)

2nd-Gen Apple Pencil

AirPods Pro

Makeshift iPad stand

Massive white board

IKEA BEKANT sit/stand desk

Cheap yet functional IKEA chair
Not Pictured:
Black Timbuk2 Tuck Pack Backpack
Let Austin know what you think about his workspace on Bonfire! bonfire.camp/u/austin 🙌
---
Thank you for viewing the eighth edition of Workspaces! I'd love any feedback you might have. Simply reply to this email and let me know.
Also, please let me know if there's any specific workspace you'd like to see featured. I'll see what I can do to make sure it happens.
If you enjoyed this, please subscribe below to receive new workspaces in your inbox every Sunday!
-Ryan